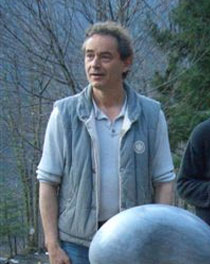 Born in Berlin in 1957, I spent four years studying philosophy, religion and psychology at the Free University Berlin beginning in 1977.
After two years of internships in various studios in Pietrasanta from 1981 to 1983, I studied Sculpture at the State Accademia di Belle Arti in Carrara, Italy.
Sculptures
Influenced by the traditional Italian statuary, most of my works are made of classical materials such as plaster, bronze or marble.

My themes are inspired by the method of "direct carving", where the final form evolves through the process of carving with respect to the nature of the material.

In the majority of cases I do not start my sculptures with a model but take the inspiration from the form of the stone. My themes do not follow a given canon. They vary and are an expression of my attitude to life
Campo dell'Altissimo
In 1981, I started Campo dell'Altissimo, the Summer School of sculpting, drawing and painting in Azzano. Today, Campo dell' Altissimo is the largest and oldest private sculpting school in Italy. Every year several hundred people come to this place close to the famous quarries of Carrara to find their artistic expression in sculpting.
Performances
My work as a performer started during my studies in Carrara in 1984. First, I collected traces in various cities of Tuscany and in West Berlin. From these I created hundreds of clay imprints, which were later converted into lasting plaster reliefs. In the beginning, the search for traces itself was a performance. Since then, I have been using sculptured details and fragments of architectural decorations for my multimedia-based performances.
| | | |
| --- | --- | --- |
| 1985 |  Wassermühle Steinfurth | Kiel (D) |
| 1986 |  "Viniculture" | Berlin (D) |
| 1987 |  Club Voltaire | Florence (I) |
| 1987 |  "Kosmos" | Amsterdam (NL) |
| 1993 |  "Voglio Vedere" | Piano di Mommio (I) |
| 1994 |  Garden Sculptures | Galerie Gudrun Seisser, Kronberg (D) |
| 1994 |  Wiesweg Galerie | Eltville (D) |
| | | | |
| --- | --- | --- | --- |
| 2012 | "TransForm" | Courbièrestraße | Berlin (D) |
| 2010 | "Zeitsprung" | Courbierestraße | Berlin (D) |
| 2009 | Werkstattgalerie | Lehderstrasse | Berlin (D) |
| 2008 | "Welcome on the floor" | Courbierestraße | Berlin (D) |
| 2007 | 5. International Hüseyin Gezer Stone Symposion | | Merzin (T) |
| 2007 | "Skulpturen" | Orangerie im Marmorpalais | Potsdam (D) |
| 2006 | "Aus Freude am Leben" | Courbierestraße | Berlin (D) |
| 2004 | "In der Welt sein" | Courbierestraße und Galerie "Double You" | Berlin, Tübingen (D) |
| 2003 | Werkstattgalerie Luchmann & Schulz | | Berlin (D) |
| 2002 - 2009 | Skulpturenpark Hotel Residenz | | Motzen (D) |
| 2001 | Galerie "Kunst in de Kerk" | Ellis Schonhoven | Nijmegen, (NL) |
| 1998 - 2001 | Garden sculptures | Galerie Gudrun Seisser | Kronberg (D) |
| 1995 | Contemporary bronze and stone sculpture | Sant' Agostino | Pietrasanta, (I) |
| 1995 | "Prendi Tre" | Galerie Herold | Bremen (D) |
| 1993 - 1998 | 6 sculptors - Symposia | | Piano di Mommio (I) |
| 1993 | SAP | | Florence (I) |
| 1990 - 2001 | Voglio Vedere | | Piano di Mommio (I) |
| 1988 | Omaggio all`Italia Marignana | | Camaiore (I) |
| 1987 | Opere Prime | | Comune di Prato (I) |
| 1986 | Opere Prime | | St. Agostino (I) |
| 1985 | Cappella San Zeno | | Pisa (I) |
| 1984 | Galerie Danielsen | | Flensburg (D) |
| 1983 - 1995 | Freie Berliner Kunstausstellung | | Berlin (D) |